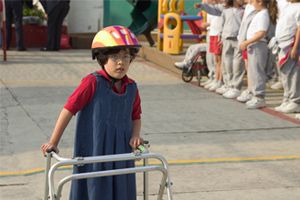 Development Homes offers two levels of support to families of people with developmental disabilities. In-home services provide support for people of all ages, and Family Care Options enable young people to transition from family homes to adult residential services.
In-Home Family Support or Respite provides the primary caregiver support while their child or adult family member is being cared for by trained staff. The primary caregiver has the option to remain in the home or leave the residence. Services can be provided in the family home or community. Hours of support are individually authorized.
Family Care Option III (FCO) supports young adults ages 18-21 in an apartment or house setting. Typically the young adults in this program attend school and are involved in a transition program working toward employment. At age 21, people in this program are transitioned to ISLA. Training is provided in all areas of life skill development. Hours of support are provided in accordance with an individual plan.
Parenting Support assists individuals who are or will be parents in developing appropriate parenting skills. Parents will receive training that is individualized and focused on the health and welfare and developmental needs of their child or children. Coordination will be maintained with informal and formal supports. Parenting Support is limited to an average of four hours of individualized child-focused direct training per week during a quarter. Support is available from the first trimester until the eligible participant's child is 18 years of age.